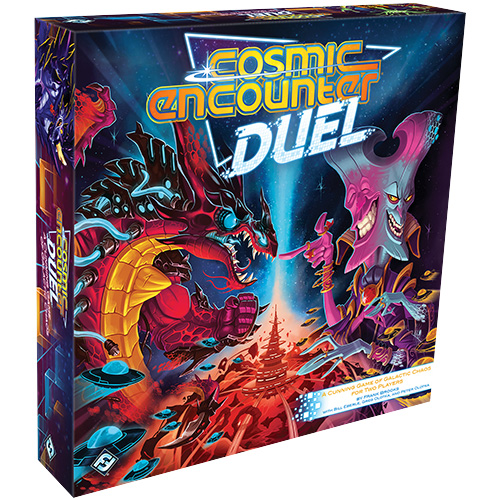 A momentous occasion has occurred!
The Cosmic Citizenship Council has announced it will allow two new alien species to join its ranks! However, the Council forgot to make two copies of the filing form, meaning really only one species can join…
A duel is the only way to see which species truly deserves to join the ranks of the esteemed Council. To prove their worth, each side must race to gain control of a minimum of five planets. The winner will become a Certified Civilization, while the loser will fade into intergalactic obscurity. Now, the battle is on in Cosmic Encounter Duel!
Cosmic Encounter Duel is a competitive standalone game for two players where you and your closest frenemy race to be the first to control five planets. Colorful ships, hidden tactics, and your alien's unique abilities may tip the odds in your favor, but beware! Tricks and traps abound, and you never know what destiny has in store!
The Answer to Life, the Universe, and Everything
Before your clashes begin, you must first see which species you will represent in the race to become a Certified Civilization. Cosmic Encounter Duel offers twenty-seven different alien species for players to choose from, ranging from the familiar to the all-out weird. Whether you want to play as the ultimate Underdog, the punishing Iron Matron, or the surprisingly conniving Intelligent Mineral, you are sure to find a colorful character you will be thrilled to lead in the fight for cosmic dominance!